Is Fire Extinguisher Training Mandatory?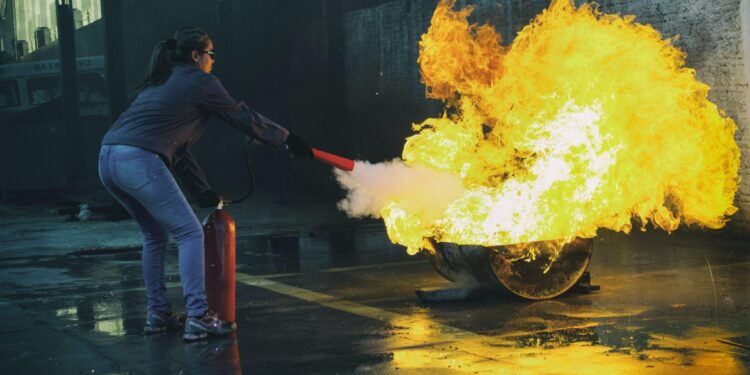 Fire extinguishers in the workplace are absolutely necessary to ensure the safety of your staff and your business. These small but important bottles are able to perform a crucial job when it comes to putting out small fires before they become something bigger, and far more sinister. With regards to who uses the extinguisher, there is actually no legal obligation that you train your employees on what each extinguisher does and how they should be using it. However, a lack of training in this area can have disastrous consequences for your business & the safety of your employees if a fire does start.
Signing Up
Your extinguishers must have signs alongside them, which are clear and visible at all times. These signs will break down which kind of extinguisher it is, be it carbon dioxide or foam, as well as giving a step by step guide on how to use them. It is critical that people understand which extinguisher to use in which situation, using the wrong one could have bad consequences. In some cases using the wrong fire extinguisher will mean that it is not effective, in others you may find it causes the fire to burn faster.
The signage on the extinguisher is going to be critical in helping your employees remember their training should the time come to use it. But these signs shouldn't be only training your staff receive.
Training For Your Staff
Fire safety should always be something which you discuss with your staff and they should have a firm idea of the evacuation plans, as well as knowledge on how to use blankets and extinguishers. If you do not train your staff on this then when the time comes, and they are in the middle of a situation, they may quickly panic and not follow guidelines. Training staff is just as much about teaching them what to do, as it is about giving them the confidence to handle crisis situations.
Training Options
Fire extinguisher training doesn't have to be carried out by you and your management team. In fact there are many companies which offer this training and they can carry this out with your staff usually in an afternoon. Getting training from professionals is the best way to give your staff the belief that they can deal with these issues, and the knowledge they'll need to potentially save lives. Always remember that this training should be refreshed at least once per year. This may seem like something which is unnecessary, but you would be stunned at just how quickly a fire can form, and how fast it can rip through a building.
It is your responsibility to keep your staff safe in their place of work. Installing equipment like blankets and extinguishers in the workplace is the first step in doing this, but you also have to ensure that your employees understand what they should and shouldn't do when they see a fire to ensure their safety and the safety of their fellow employees.