Get your copy of the Mindful Parenting eBundle today
and receive a unique collection of parenting eProducts, fostering connection, consciousness and peace. The
Mindful Parenting eBundle,
that's
22 carefully selected titles for 24,95USD
, with a
retail value of 274USD
!
***
Some time ago, I received a guest post by Marcy Axness about
sleep talking
. I absolutely loved this innovative approach and got into an email approach with the author. She mentioned she had a book and would love for me to write a review about it. I have been reading the book for about a year now (something she did warn me about as she said it's not the one straight line kinda book) and every page I turn I am baffled.
Marcy writes with such an insight in children, in relationships, in life… She touches on subjects I never even thought about. I have read many a parenting book the past few years and most of them just rehash the same information, but this book actually brought new things to me.
For example, she mentions that you should always have at least one layer of clothing on your child, specifically on the torso and abdomen. Children are hardly ever cold, because they generate so much energy with all of the cell growth going on in their little bodies. It's easy to mistakenly let them run around barely dressed, but that takes away much of the energy they would be needing for all of those growing processes, in order to generate body heat instead.
Now some of you might be shaking your heads and saying 'how can you not know that?', well, I didn't. I never read anything about it, and I have often let my kids run around naked, given that we live in the tropics.
Parenting for Peace
is an inspiring book, and one I will often reach for again. Often confrontational and eye opening, sometimes I don't know if I can agree, but with every word it makes you think, and that is a good thing! Parenting should be reflective and this book sure helps you along that path.
It starts at preconception and leads you throughout the entire childhood. It instills a deep importance in parenting, one that is so often forgotten: we are raising the next generation of decision makers, so why not try to create a better future while we're at it?
***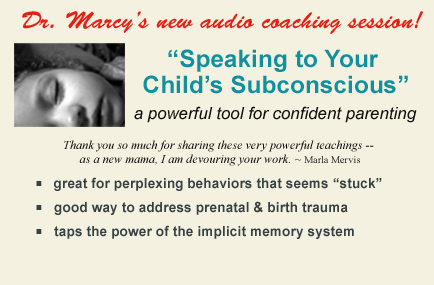 Marcy's
Unique Parenting Tool: Sleep Talking kit
is part of the
Mindful Parenting eBundle
. The kit consists of an eBooklet and audio track, explaining the sleep talking technique and offering guidance on it's use. Find out more about Sleep Talking. The
Mindful Parenting eBundle
offers you 22 titles to make a difference in parenting, with topics such as
peaceful guidance, stress relief and self care,
creative play
and
mindful mothering
.
Get your copy today
!