Memoirs of a Singing Birth by Elena Skoko is first and foremost a birth story... But it is so much more. It is the account of a woman's ecstatic journey into motherhood, but also into womanhood. She shares her exploration on birth in a wonderfully upbeat way.

Artist and Singer Elena gave birth in Ibu Robin Lim's Balinese birth center and did it while singing the songs by her band Bluebird & Skoko. Her story is laced with multi-cultural and multinational anecdotes, all strung together in her joyous bohemian way of writing, and topped off with facts and figures she gathered during her search for information. This clash of cultures and histories gives the book another dimension and refreshing anecdotes of birth related rituals around the world make it an interesting piece of reading for those who are looking for something extra.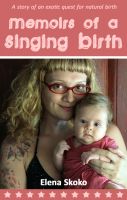 Image: Smashwords
The book is truly a pleasant read and an inspiration for women who want to birth in their own way.
Memoirs of a Singing Birth
is an e-book, available at Smashwords.
20% of the revenues go to Yayasan Bumi Sehat natural birth clinic in Bali. With the code VD75E you can get 20% off (7,99$ instead of 9,99$), the coupon is valid until August 20th 2011.