As I am currently on holiday, I have gathered you a couple guest posts.

On the 5th Sarah from Becoming Sarah tells us a little something about toys.
On the 6th, Lisa Meuser from Perpetual Joy writes about communicating authentically with children.
On the 7th, Dohiyi Mama has a very empowering breastfeeding post lined up for us.
On the 12th, Code Name Mama gives us a guest post about gentle discipline.
Jeff Sabo donated a guest post about homebirth from the dad's perspective, which will go live on the 13th.
On July 16th, API Speaks hosts its monthly Carnival. This one is dedicated to providing consistent and loving care, for which I have submitted a post questioning the definition of consistent parenting.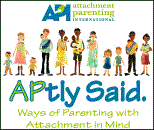 Other topics this month are chores, closet parenting, a follow up to '
Silly Questions You Shouldn't Ask Parents
'...