May promises to be another exiting month, with a lot of carnivals coming up. Some are becoming regulars, some are new ones I'm trying out.

There's a lot of Carnivalling going on for mother's day, what else can you expect from mommy blogs ;)

May 7th About.com is hosting a Blog Carnival on Motherhood, for which I have submitted this post.

On May 9th, Birth Activist is asking about the influence of birth on parenting, for which I have written a post a while ago.

Carnival Of Natural Parenting on May 11th is all about being a role model.




The
16th of May
, we'll be having the
Carnival of Feminist Parenting
, an exiting first for me, but given my inspiration on the subject, this might become a regular. I have written
something about epidurals
for the occasion.
May 18
is the Teach Learn Blog Carnival, which is rather new too, you can find information on it
here
.
The
21St of May
, API speaks will be hosting a
carnival on nurturing touch
. I have been working on something special for this one, but I'm having some trouble with my internet connexion lately, so I'll have to wait until the Internet Gods are kind to get this up.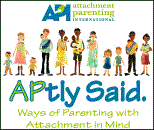 And Last but not Least, I will be hosting a little carnival of my own - if anyone is willing to participate, that is. The first edition of the Authentic Parenting Blog Carnival will take place on the May 24th, submissions are due on the 17th. The theme is 'Radical Parenting'.